Get link

Facebook

Twitter

Pinterest

Google+

Email

Other Apps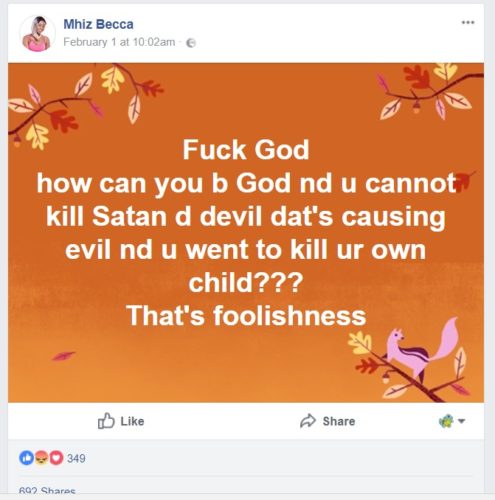 A Nigerian Lady named Mhiz Becca has just taken to Facebook to Call Out God:
F*ck God how can you b God nd u cannot kill Satan d devil dat's causing evil nd u went to kill ur own child??? That's foolishness
see some reactions below;
DesMart CapaLii God is really a merciful God….Our God is not God that kill he could have killed you before u said everything out…..but try Buhari dem God them go come ur house burn ur community…..Thank you Jesus am serving a living God
Standard Boss Even prostitutes wanna be noticed. God don't have your time okay? So,just get the momental fame you want while waiting for the wrath of God open you.
Adeniran Sulaimon Nowadays it's easier to know girls whose destinies has been used by yahoo boys , this girl u are seeing is an example of one….
Innocent Ulari Even this one dat looks like expired fufu wants to trend too?
I think the federal government should select some idiots like dis and use for money rituals to boost the economy…
Nonsense and ingredient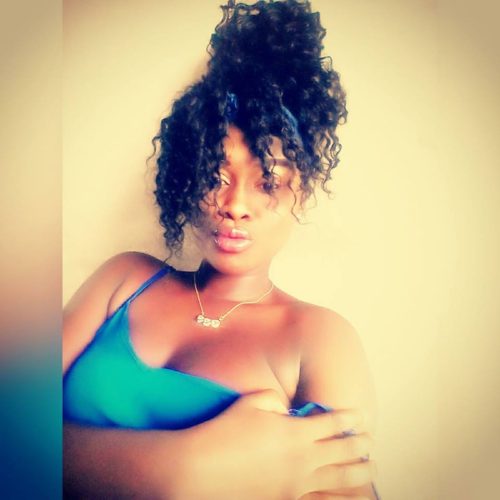 PLEASE HELP US AND KINDLY SHARE
Get link

Facebook

Twitter

Pinterest

Google+

Email

Other Apps